$0.42
Steem quite cheap on the internal market ! ~ 13 cents ATM (-25%)
This information will depreciate itself really fast !
But for the presence this is an opportunity to make some good trades,
or converting some SBD to Steem on the internal steemit market !
---
atm ~ 25% price loss for steem price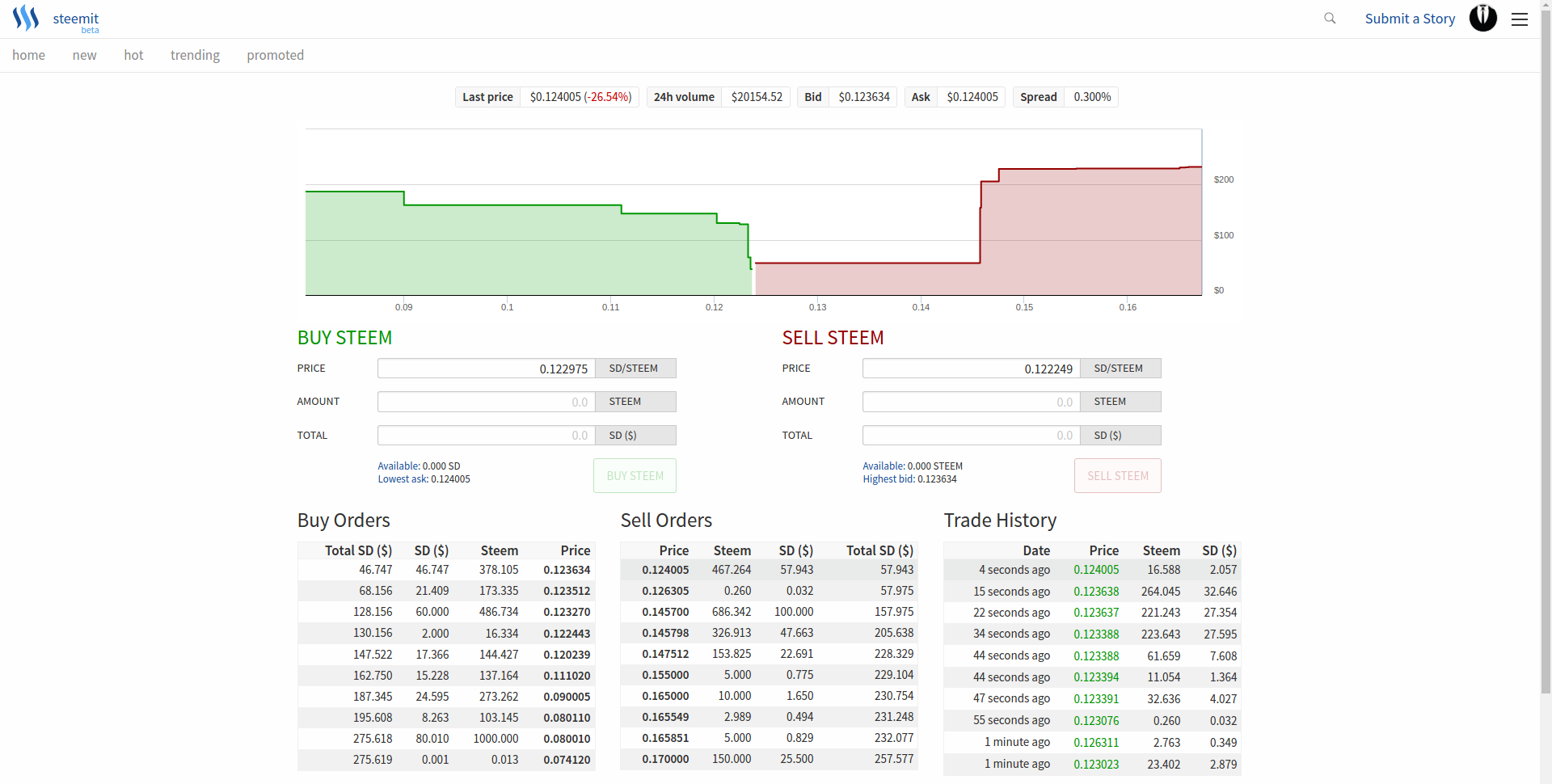 https://steemit.com/market
---
stable prices on poloniex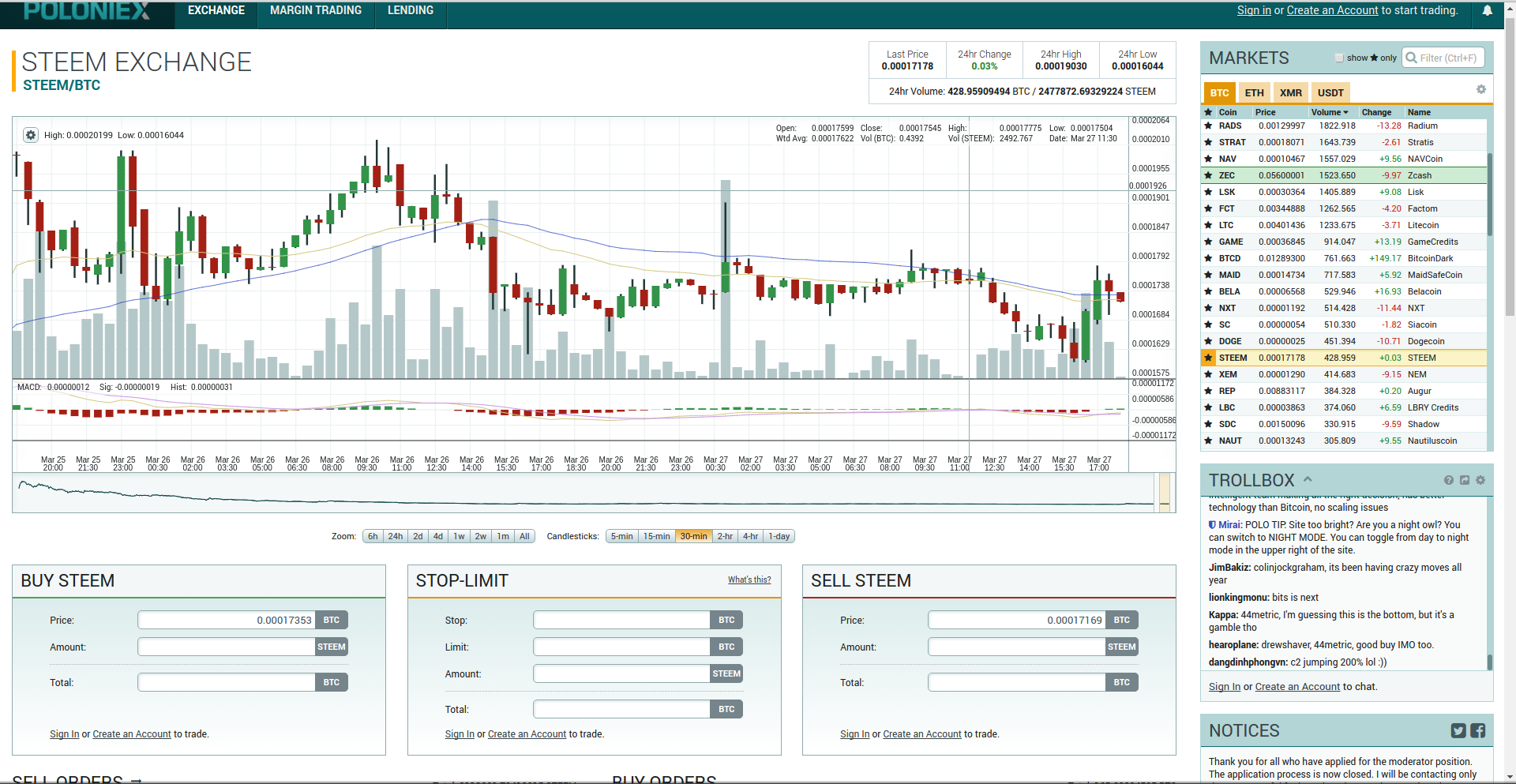 https://poloniex.com/exchange#btc_steem
But of course you have to recognize:
only low volumes are possible and maybe steem price is just simply falling !
This is no Advice !
👍
joshbreslauer
,
sunshine
,
ihashfury
,
jason
,
fyrstikken
,
crowdfundedwhale
,
sandra
,
dmilash
,
schamangerbert
,
alexpmorris
,
annaarthur
,
luisucv34
,
runridefly
,
proctologic
,
pairmike
,
ambyr00
,
funkit
,
herbertmueller
,
karenmckersie
,
barrydutton
,
seablue
,
gomeravibz
,
jamesjarman
,
mindhunter
,
giantbear
,
richardcrill
,
lasseehlers
,
uwe69
,
riskdebonair
,
whatageek
,
steemer0815
,
meysam
,
nang1
,
juvyjabian
,
steemitguide
,
shadowspub
,
surpassinggoogle
,
forrestwillie
,
stray
,
youngkim
,
timelapse
,
darthnava
,
konelectric
,
daisyd
,
sergey44
,
jacobts
,
flyingcam
,
steemitqa
,
patelincho
,
andrei
,
eirik
,
cwatch
,
butan
,
driptorchpress
,
corvuscoraxx
,
mycryptomark
,
willsplace
,
dirty.hera
| | |
| --- | --- |
| json_metadata | {"tags":["steem","trade","exchange","price"],"image":["https://steemitimages.com/DQmTVxZNbNrDymffhoQ5dsxdLkkum2oEhYyDEazPnSw5tmh/market.png","https://steemitimages.com/DQmRTMGpJzCAaRqUmTYFKbMNY9wMz1r3xaXCw8d4ndNwuSt/polo.png"],"app":"steemit/0.1","format":"markdown","links":["https://steemit.com/market","https://poloniex.com/exchange#btc_steem"]} |
| last_update | 2017-03-27 21:39:39 |
| created | 2017-03-27 18:09:36 |
| active | 2017-03-27 22:13:24 |
| last_payout | 1970-01-01 00:00:00 |
| depth | 0 |
| children | 8 |
| children_rshares2 | 4,304,261,872,910,396,917,914,621 |
| net_rshares | 813,070,407,986 |
| vote_rshares | 846,071,183,433 |
| children_abs_rshares | 1,017,785,301,037 |
| cashout_time | 2017-03-28 19:01:04 |
| max_cashout_time | 2017-04-10 18:09:36 |
| total_vote_weight | 2,990,456,707,182,491,706 |
| reward_weight | 10,000 |
| total_payout_value | 0.000 SBD |
| curator_payout_value | 0.000 SBD |
| author_rewards | 0 |
| net_votes | 58 |
| root_comment | 2,270,352 |
| mode | first_payout |
| max_accepted_payout | 1,000,000.000 SBD |
| percent_steem_dollars | 10,000 |
| allow_replies | true |
| allow_votes | true |
| allow_curation_rewards | true |
| root_title | "Steem quite cheap on the internal market ! ~ 13 cents ATM (-25%)" |
| pending_payout_value | 0.423 SBD |
| total_pending_payout_value | 0.465 SBD |
| author_reputation | 5,271,624,091,046 |
| promoted | 0.000 SBD |
| body_length | 759 |
| reblogged_by | [] |
| author_curate_reward | 53.20% |
vote details (58)
| voter | weight | wgt% | rshares | pct | time |
| --- | --- | --- | --- | --- | --- |
| joshbreslauer | 0 B | 0.00% | 305,087,876,369 | 100% | 2017-03-27T18:09:36 |
| annaarthur | 4,074,718 B | 0.14% | 12,074,782,677 | 100% | 2017-03-27T18:12:09 |
| sergey44 | 136,583 B | 0.00% | 376,390,597 | 100% | 2017-03-27T18:12:21 |
| funkit | 2,836,324 B | 0.09% | 2,722,805,517 | 100% | 2017-03-27T18:17:30 |
| eirik | 386,105 B | 0.01% | 220,311,587 | 100% | 2017-03-27T18:22:54 |
| fyrstikken | 103,411,882 B | 3.46% | 52,963,499,935 | 1% | 2017-03-27T18:24:36 |
| runridefly | 16,683,192 B | 0.56% | 6,085,189,735 | 14% | 2017-03-27T18:30:57 |
| luisucv34 | 25,897,309 B | 0.87% | 9,326,431,252 | 100% | 2017-03-27T18:31:18 |
| sunshine | 367,373,165 B | 12.28% | 125,942,128,137 | 100% | 2017-03-27T18:33:06 |
| herbertmueller | 7,650,936 B | 0.26% | 2,371,577,511 | 100% | 2017-03-27T18:36:21 |
| nang1 | 2,029,370 B | 0.07% | 628,291,765 | 100% | 2017-03-27T18:36:24 |
| steemer0815 | 2,781,564 B | 0.09% | 859,850,294 | 100% | 2017-03-27T18:36:27 |
| crowdfundedwhale | 150,704,750 B | 5.04% | 44,016,526,303 | 65% | 2017-03-27T18:38:18 |
| uwe69 | 4,136,086 B | 0.14% | 1,167,240,032 | 100% | 2017-03-27T18:40:27 |
| flyingcam | 1,223,376 B | 0.04% | 345,361,934 | 100% | 2017-03-27T18:47:54 |
| seablue | 7,444,362 B | 0.25% | 2,102,688,275 | 1% | 2017-03-27T18:48:27 |
| whatageek | 3,284,333 B | 0.11% | 928,288,376 | 1% | 2017-03-27T18:48:30 |
| ihashfury | 213,957,066 B | 7.15% | 64,610,373,893 | 48.3% | 2017-03-27T18:48:33 |
| jason | 182,013,918 B | 6.09% | 53,597,216,357 | 48.3% | 2017-03-27T18:48:33 |
| giantbear | 4,724,922 B | 0.16% | 1,375,022,599 | 1% | 2017-03-27T18:48:33 |
| richardcrill | 4,473,713 B | 0.15% | 1,369,977,030 | 1% | 2017-03-27T18:48:36 |
| sandra | 0 B | 0.00% | 33,000,775,447 | 33.81% | 2017-03-27T18:48:39 |
| barrydutton | 7,053,905 B | 0.24% | 2,161,709,592 | 1% | 2017-03-27T18:48:39 |
| driptorchpress | 298,128 B | 0.01% | 91,406,415 | 1% | 2017-03-27T18:48:42 |
| shadowspub | 1,934,721 B | 0.06% | 593,272,646 | 1% | 2017-03-27T18:48:45 |
| forrestwillie | 1,625,853 B | 0.05% | 498,674,329 | 1% | 2017-03-27T18:48:48 |
| karenmckersie | 7,538,820 B | 0.25% | 2,313,640,014 | 1% | 2017-03-27T18:48:51 |
| ambyr00 | 9,847,889 B | 0.33% | 3,025,677,868 | 1% | 2017-03-27T18:48:54 |
| dirty.hera | 182,215 B | 0.01% | 56,020,131 | 1% | 2017-03-27T18:49:00 |
| riskdebonair | 3,621,749 B | 0.12% | 1,113,744,598 | 1% | 2017-03-27T18:49:03 |
| konelectric | 1,352,306 B | 0.05% | 415,988,959 | 1% | 2017-03-27T18:49:06 |
| pairmike | 12,243,844 B | 0.41% | 3,769,692,493 | 1% | 2017-03-27T18:49:09 |
| jacobts | 1,144,940 B | 0.04% | 352,814,659 | 1% | 2017-03-27T18:49:15 |
| surpassinggoogle | 1,747,868 B | 0.06% | 538,708,252 | 1% | 2017-03-27T18:49:18 |
| steemitqa | 941,131 B | 0.03% | 290,115,339 | 1% | 2017-03-27T18:49:21 |
| meysam | 2,111,094 B | 0.07% | 650,899,062 | 1% | 2017-03-27T18:49:24 |
| andrei | 763,626 B | 0.03% | 235,487,449 | 1% | 2017-03-27T18:49:27 |
| proctologic | 12,317,945 B | 0.41% | 3,801,828,376 | 1% | 2017-03-27T18:49:30 |
| youngkim | 1,525,470 B | 0.05% | 471,245,140 | 1% | 2017-03-27T18:49:54 |
| darthnava | 1,412,751 B | 0.05% | 436,507,055 | 1% | 2017-03-27T18:49:57 |
| lasseehlers | 3,926,777 B | 0.13% | 1,213,701,896 | 1% | 2017-03-27T18:50:00 |
| stray | 1,565,790 B | 0.05% | 484,131,898 | 1% | 2017-03-27T18:50:03 |
| mindhunter | 5,103,362 B | 0.17% | 1,578,606,987 | 1% | 2017-03-27T18:50:06 |
| willsplace | 208,691 B | 0.01% | 64,576,058 | 1% | 2017-03-27T18:50:09 |
| daisyd | 1,265,478 B | 0.04% | 391,618,263 | 1% | 2017-03-27T18:50:12 |
| cwatch | 488,957 B | 0.02% | 151,331,172 | 1% | 2017-03-27T18:50:15 |
| jamesjarman | 5,517,399 B | 0.18% | 1,708,288,534 | 1% | 2017-03-27T18:50:18 |
| steemitguide | 2,014,616 B | 0.07% | 624,066,800 | 1% | 2017-03-27T18:50:21 |
| timelapse | 1,495,809 B | 0.05% | 463,461,364 | 1% | 2017-03-27T18:50:24 |
| gomeravibz | 5,805,533 B | 0.19% | 1,799,637,879 | 1% | 2017-03-27T18:50:27 |
| patelincho | 794,289 B | 0.03% | 246,324,498 | 1% | 2017-03-27T18:50:30 |
| mycryptomark | 224,323 B | 0.01% | 69,571,354 | 1% | 2017-03-27T18:50:33 |
| juvyjabian | 2,014,350 B | 0.07% | 624,820,713 | 1% | 2017-03-27T18:50:36 |
| dmilash | 86,841,135 B | 2.90% | 27,092,874,843 | 100% | 2017-03-27T19:18:51 |
| alexpmorris | 45,574,129 B | 1.52% | 14,341,444,287 | 100% | 2017-03-27T20:40:51 |
| schamangerbert | 63,257,690 B | 2.12% | 20,048,454,213 | 100% | 2017-03-27T21:20:57 |
| butan | 334,851 B | 0.01% | 106,568,493 | 1% | 2017-03-27T21:39:27 |
| corvuscoraxx | 222,739 B | 0.01% | 70,890,735 | 100% | 2017-03-27T22:17:15 |
vote your-acct "joshbreslauer" "steem-quite-cheap-on-the-internal-market-13-cents-atm" 100 true
post_comment your-acct "re-joshbreslauer-steem-quite-cheap-on-the-internal-market-13-cents-atm-20170327t171824529z" "joshbreslauer" "steem-quite-cheap-on-the-internal-market-13-cents-atm" "" "your reply.." "{}" true